Production Quality Engineer
Meet Jovana, Our Production Quality Engineer here at Polarium. Her curiosity of wanting to understand how things work and her love for detail is what led her to a path in engineering. Today, Jovana's role is to ensure the quality of production processes. She takes great pride in challenging herself and her colleagues to strive for excellence. But Jovana's career path has not always been as planned.
''I got my formal education in my home country, Serbia, and moved to Sweden a couple of years ago," says Jovana, "I have always been curious about how things work and their function, so pursuing a career in the engineering field was a logical step for me. I love details, so quality was a logical major for me to pursue. I like the fact that the engineering field is constantly changing, with lots of innovation, which gives us the opportunity to keep developing and learning."

"Even if this field is dominated by mostly men, I don't think that girls or women should see that as an obstacle."
"My plan was not to work in production in the beginning. And to be honest, I never thought that I would go in this direction working with batteries and different types of energy storage solutions. I always thought I was going to work in a more office-based role and not much in the production line. But I like the fact that my role is closely connected to production. And now that I think about it, it suits me better than I expected it to. I get to be more hands-on than I would have if I were just working in the office."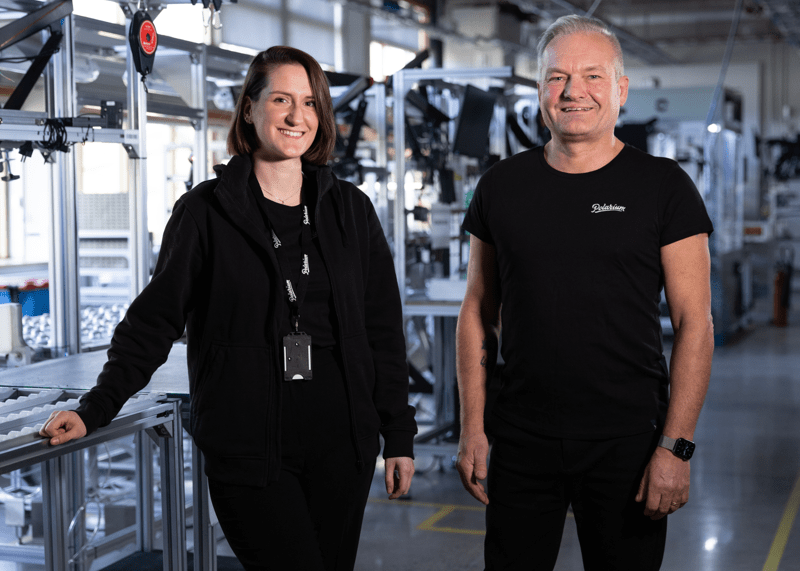 For young girls who aspire to join the engineering field, Jovana's advice is not to let gender disparity be an obstacle, ''If you are someone at the beginning of a career like me, it is extremely important to have a chance to learn and, more importantly, to have space to learn from your mistakes to grow professionally. I think most of us don't have the confidence, the will is there, but we are scared to try. Here at Polarium, I had the opportunity to try different things, which is something I really like. I have a supportive team here, and I don't shy away from asking."
"Even if this field is dominated by mostly men, I don't think that girls and women should see that as an obstacle because I do believe that we can do as good a job in a male-dominated field and vice versa. I believe that we are all equal, and I prefer to work in a diverse team. Here at this job, I have only experienced the same type of benefits as everyone else."
"I think when you're just getting started, it's most important to prove yourself. Don't compare to other people. Trial and error leads to a better learning experience rather than failure.''
Jovana's journey to Polarium was not a typical one. She initially struggled to find a job in her field when she moved to Sweden with her husband. After a while of taking on different jobs outside her field, she finally landed a two-month internship at Polarium, ultimately leading to a full-time job offer.
''When I first moved to Sweden a couple of years ago, it was hard to find a job in my field, so my husband and I just wanted to blend in and take the first job opportunity we got. But after a while, I got a two-month internship here, which led me to land a full-time job."
"One of the things that I discovered during my internship was my interest in working with prototypes and building something from scratch, which is beautiful because we get to create something entirely new and work with renewable energy. I love that I get to work with great people that are all working towards making the future a better place for the next generation!''
While Jovana acknowledges that the engineering field can be stressful and demanding, she finds motivation and support from her team. She appreciates her manager's emphasis on work-life balance and making sure everyone has the space to focus on their passions and private life outside of work.
"Building something from scratch is beautiful because I get to create something entirely new."
''You know this profession, can be very stressful, demanding, and hard to have a good work-life balance. But what really motivates me is the support I have from my team. We all work together and trust each other, making it easier to balance work and private life. My manager makes sure that we all have the space outside of work and for me, that is the best way to make the team productive and focused and the way to gain company success!'' says Jovana
Each of our teams has the shared purpose of creating smart energy storage that changes the way we use energy as a society. At Polarium, we believe a diverse group of people is the springboard for our creativity, innovation, and success. Check out our available job positions to see if one is right for you!